FINN.no
FINN.no has become Norway's largest online marketplace and this carries a level of responsibility towards the community.
Design: Lotte Johansen, senior developer, FINN.no and Maiken Solberg Olsen, product manager, FINN Apps insde FINN.no
Uu-team FINN.no: David Håsäther, developer, Camilla Røhme, interaction designer, Sofia Hussain, interaction designer, Tor-Martin Storsletten, developer, Ingrid Vestby Fredriksen, visual designer
Lead users:
Norwegian Association of the Blind and Partially Sighted, feedback from 6 million FINN.no users
Methods:
Workshops, internal universal design group
Awards:
Winner of the Innovation Award for Inclusive Design 2017 in the category of Interaction Design and Digital Solutions
We work proactively to embed universal design within management as a design-driven premise. An important part of the group's mandate is also to pass on know-how, experience and ideas about universal design to designers and internal developers, and we have also started a partnership with the Schibsted Media Group.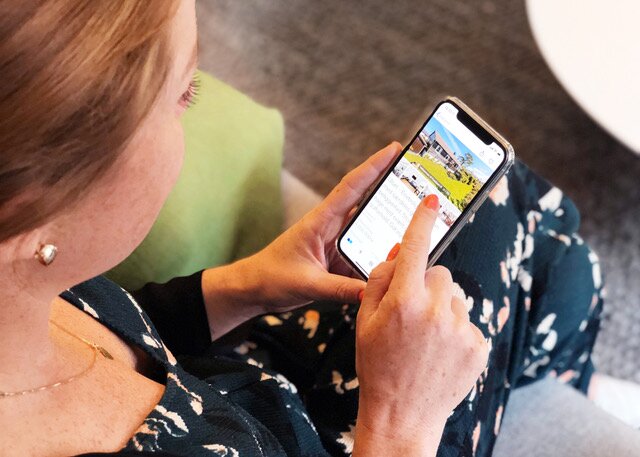 CHALLENGE
In particular, everyone should be able to access the job, vehicle and property markets online. With the introduction of screen-reading technology, their solutions have further opened existing markets to more people, including those who are blind or partially sighted.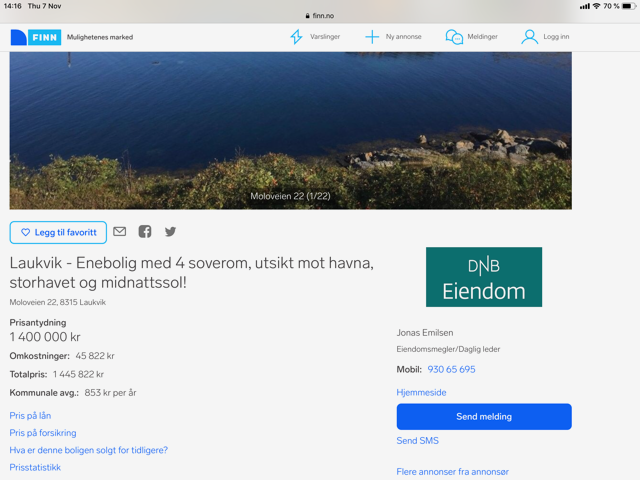 APPROACH
With the introduction of legislation for universal design in ICT in 2014, FINN.no established an internal universal design group to focus on improving their existing offer.
The developers of FINN.no attended workshops to test their solutions by simulating functional impairment. Using digital magnifying glasses to recreate tunnel effect syndrome, they tested how their designs were perceived. This helped to highlight the problems associated with small screens, or those experienced by people who were partially sighted or neurodiverse. Through this process, confusing and ambiguous language was changed to avoid misunderstandings. They also tested keyboard navigation and inverted colours.
FINN.no also continually listens to its six million users each week, a number that totals more than the population of Norway. The FINN.no App alone has over 1,3 million unique users per week. The company collaborated with the Norwegian Association of the Blind and Partially sighted to conduct user tests over several years.
FINN.no has one blind employee, who continually tests suggested ideas and the team also tests solutions on neurodiverse individuals such as adults with autism.
The advantage of the Finn App is that each individual's needs can be matched to the features of the telephone and the support offered, for example, instant notifications, i.e. so-called push notifications and GPS location.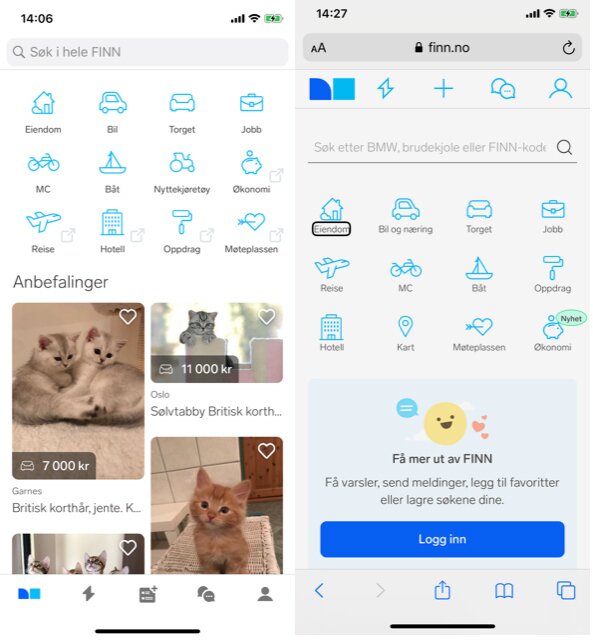 RESULTS
FINN.no has innovated by rapidly responding to technological changes, and throughout the years it has developed an entire ecosystem of services that they continually improve and develop. This level of agile inclusivity marks them out as special. Images and icons are used to visually reinforce information and the design patterns are recognisable with easily understandable micro texts and links. The image displays are responsive, the text is self-explanatory and the App effortlessly remembers the task started.
The App is adapted to screen readers that are often used by individuals with low vision. Messages and search hits are often annotated with the sender's name and time.