Kolonial.no
With an adapted voice feature, this online supermarket signifies a small revolution for blind and partially sighted people who previously relied on other shoppers telling them where to find particular products in the store.
Design: Mats Andre Kristiansen, marketing manager, Kolonial.no AS and Andreas Skaranger, product manager, Kolonial.no AS
Lead users:
The Norwegian Association of the Blind and Partially Sighted
Methods:
Partnership with interest organizations
Awards:
Winner of the Innovation Award for Inclusive Design 2017 in the category of Service Design
Reaches
40%
of Norways population
CHALLENGE
When Kolonial.no started this undertaking, similar services had already existed for a few years, but they had experienced limited success. Before broadband internet became a reality, the online ordering procedure often took longer than actually going to the store. However, countries such as Sweden and the UK were somewhat more advanced in producing and using online shopping portals and had experienced significant market success. This proved that there was opportunity for a service of this type within Norway.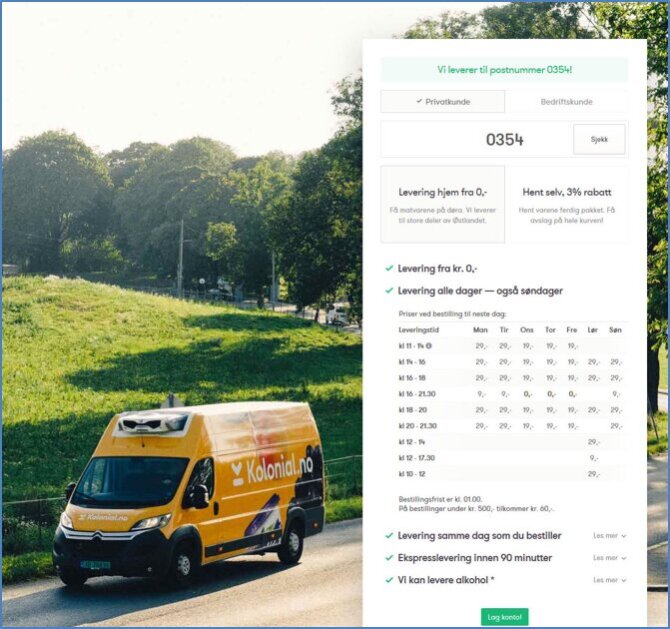 APPROACH
Ten entrepreneurs established the company in 2014, seven of whom had a background in technology as developers or designers.
We view ourselves as a technology company that sells groceries rather than the opposite.
The entrepreneurs in Kolonial have built most of the technical solutions themselves, including the web interface, mobile back end with drive-out optimisation, picking systems, etc. Owning the entire business chain gives them full control over all its components.
With this type of internal competence to develop the idea, they rapidly used the available technology to further improve other aspects of online shopping by making everything more functional.
The service was launched at the Telenor Arena and at Aker Solutions with a few thousand employees as an initial test group. Each day the entrepreneurs distributed groceries to these test customers continually receiving direct feedback on user friendliness and effectiveness of the idea. This helped to build up a small, but optimal warehouse in the early phase of the project.
Universal design has resulted in a solution that is useful for everyone and ensures that a customer-friendly approach is built into the system, rather than being created as an add-on. Kolonial.no were therefore somewhat surprised when the general secretary of the Norwegian Association of the Blind and Partially Sighted telephoned to say that their service enabled the blind to buy food for the first time without assistance.
This meant that they had acquired 180,000 potentially new customers with their newly launched app, which was astonishing. In addition, there are those who experience physical or mental challenges and often cannot go to a supermarket to do their shopping. They were informed the other day of just how much it meant, for example, to receive a small vibration each time a product is put in the basket.
CHALLENGES
For people who are blind and partially sighted, each update can be a potential obstacle, as learnt patterns are then changed. Kolonial.no believes it is crucial to increase efficiency, but only in consultation with their customers meaning that changes are relevant, well thought through, and based on a solid foundation. Consequently, they are entering into a partnership with the Norwegian Association of the Blind and Partially Sighted.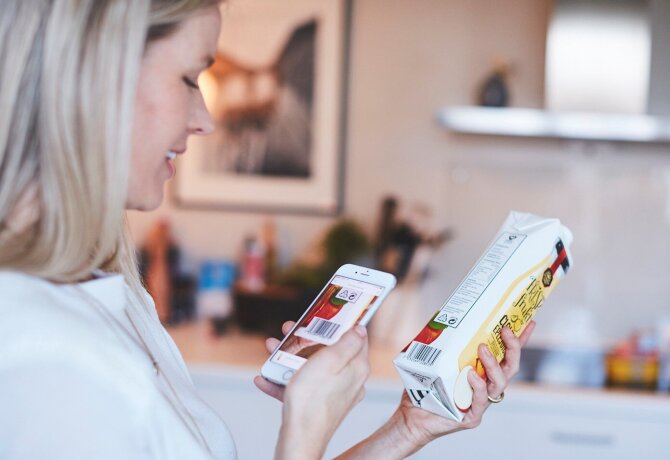 RESULTS
Because of the success they experienced with this inclusive solution, the employees feel proud and loyal to the brand, and the intuitive user experience continues to excel in all parts of the process. Kolonial.no has grown to become the leading online grocery shopping service in Norway, and it is preferred by customers from all walks of life and with a varying level of need.