Blanke Ark Election System – profile and signage
All citizens over the age of 18 have the right to vote and this is the foundation of democracy. Yet in practice, it has not always been so simple to make this happen. A number of voters can meet various forms of exclusion, such as barriers caused by poor design solutions at polling stations. Blanke Ark is a universally designed
election system that makes it easier for everyone to cast their vote.
Client: Ministry of Local Government and Regional Development in collaboration with Design and Architecture Norway through the State Design Competition – Design and Democracy.
Design: Innovativoli (now Comte Bureau), Blueroom Designstudio and Eggs Design

Resources and other partners: Ministry of environment, the Delta Center (now a part of the Norwegian Directorate for Children, Youth and Family Affairs), the Norwegian Association of Disabled, the Norwegian Association of the Blind and Partially Sighted.
Lead users:
Visually impaired people, older people, people with reduced physical ability as well as cleaners and election officers who could provide detailed insights into existing problems.
Methods:
Interview, mock-ups, user feedback, evaluation, questionnaires, focus groups, natural observation
Awards:
Category winner Graphic Design, Innovation Award for Universal Design by Design and Architecture Norway and Ministry of Children, Equality and Inclusion (2011). Design for All award by Design and Architecture Norway (2010). Winner of the State Design Competition – Design and democracy (2008) by Ministry of Local Government and Regional Development in collaboration with Design and Architecture Norway.
173

municipalities uses the election system
CHALLENGE
The State Design Competition – Design and Democray - was organised in 2008 to develop a common solution for all polling stations in Norway. The aim was to simplify the election process, reduce costs and to ensure equal accessibility. The solution also had to enhance the experience of the purpose of voting, which is to participate in the democratic process.
At the time there were more than 3,000 polling stations in the 430 municipalities in Norway. Each municipality developed its own solution of voting equipment, since there was no national standard. The existing election equipment was difficult to access for voters with common disabilities. Ballots were unreachable for wheelchair users and visually impaired people could not vote without asking for assistance in the booth – a violation of the rules of a closed election. This project looked at how the ballot and booth system could be redesigned to make government elections available and appealing for everyone without any form of discrimination.
The State Design Competition asked designers to submit proposals for a complete solution comprising ballot boxes, election booths, systems for placing ballot sheets in the booths as well as signage, graphic profiles and ballot sheets to be implemented for the 2011 elections. The winning solution was designed by a team consisting of Innovativoli (now Comte Bureau), Eggs Design and Blueroom Designstudio.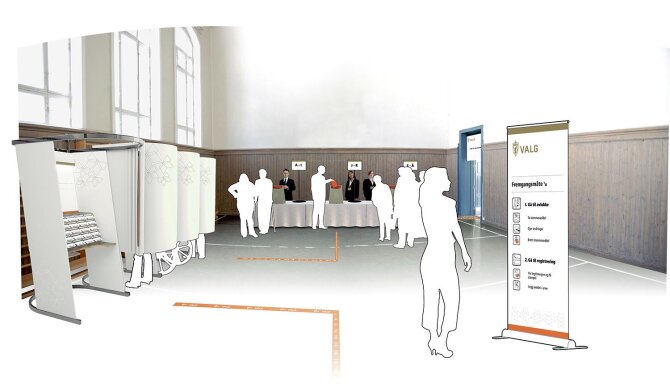 APPROACH
The idea from the start was to develop a solution based on the principles of inclusive design to avoid stigmatization. The aim was to enable as many people as possible to do their civic duty independently, without the need for special help or adaptations.
Blanke Ark was developed in close collaboration with the Ministry of Local Government and Regional Development, representatives from the municipalities, the Delta Center, the Norwegian Association of Disabled, the Norwegian Association of the Blind and Partially Sighted and with voters with various disabilities.
The design team conducted phone conversations and face-to-face interviews with lead users to provide insights and inspiration that helped to establish the design brief and specification.
During the process, mock-ups and sketches were presented to lead users to adjust and select initial designs. These were built as full-scale prototypes for testing in situ. At this stage, a reference group consisting of lead users was also established to follow the project until completion. They gave feedback on general concept directions as well as design details, taking ideas through several iterations and gave the green light on the final product specification.
Questionnaires and focus groups were used to collect feedback, and a team of observers followed people on election day to assess the new designs.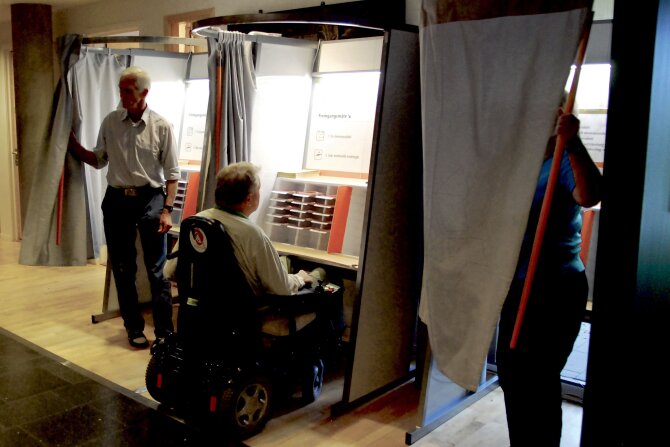 RESULTS
Blanke Ark is an election system that can be accessed by voters with different abilities. It represents a jointly and universally designed solution that also simplifies implementation and reduces costs. The graphic profile of all elements is consistent and the pictograms are intuitive and easy to understand. Black text and symbols are displayed on a white background, and the deliberate use of orange attracts greater attention to selected elements. Orange guide tape provides a good contrast against most floors.
The booths have two table heights to accommodate standing and sitting voters and are wide enough to accommodate a wheelchair. Labelling for the ballot papers have a suitable font size for low vision users and are laid out horizontally to make it easy for everyone to get hold of them. This enable more people to cast their vote without help of others. The ballots are designed so that voters intuitively fold them the right way and remove the need for 'difficult to access' envelopes, which also reduce time and paper.
The curtain at the booths now has a high contrast orange rod to make it easier to handle. The ballot box, where the ballot paper is posted, is placed at a height that wheelchair users can reach. The opening of the box is high contrast orange and shaped to aid those with unsteady hands or visual impairment. The ballot box is also designed for easy emptying of votes for the local election staff.
Blanke Ark election system was developed and tested during the 2009 Norwegian parliamentary elections and was praised by the citizens who used it. Feedback from them and other user groups spurred further development and improvements in partnership with the Ministry of Local Government and Regional Development.