Vision of The Fjords
The sightseeing boat 'Vision of the Fjords' combines Inclusive Design and sustainability to set new standards for water transport. It was designed to sail into the UNESCO-protected Nærøyfjorden in Norway, a site of outstanding natural beauty.
Client: The Fjords (Fjord1 and Flåm AS)
Shipyard: Brødrene Aa
Designer: Torstein Aa
Background: Three professional organisations from Sogn og Fjordane agreed to enter into a joint venture (Flåm AS) to build a new boat for sustainable tourism on the fjords. They worked closely together on this spectacular innovation.
Lead Users:
The Norwegian Association of Disabled People, Non-Norwegians, Norwegian Association of the Blind and Partial Sighted.

Methods:
Awards:
Ship of the Year 2016, Reddot Award 2017, Shippax Award 2017, Main Winner and Category Winner Innovation Award for Universal Design 2017, JEC Innovation Award 2017, DOGA Award for Design and Architecture 2017, Design of The Year Bergen Award 2017, Grand Award, IAUD International Design Award 2019.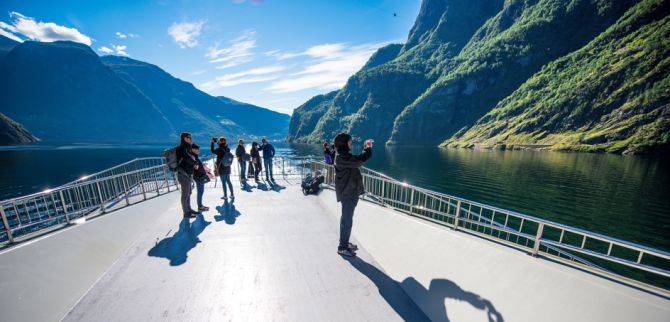 We see in practice that making good solutions for those with mobility issues is great for all passengers no matter capability.
CHALLENGE
Flåm is a world-renowned tourist destination on the West coast of Norway where ferries form part of the transport system. The area has stunning and protected nature so the project owners asked themselves: how can we support more sustainable tourism and set a new benchmark for inclusive boat design? Three organisations from the regional county of Sogn og Fjordane entered into a joint venture (Flåm AS) to create a new boat using Inclusive Design resulting in step change innovation. The shipyard Brødrene Aa had an award-winning reputation for inclusively designed passenger boats.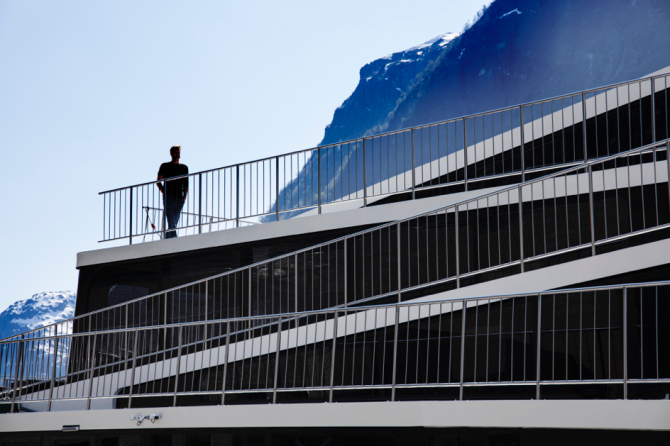 LEAD USERS
The Norwegian Association of Disabled People helped test solutions for people with reduced mobility. Non-Norwegian speakers tested information accessibility, and people with low vision were included from the Norwegian Association of the Blind and Partial Sighted. Research was conducted with a range of passengers 'in situ', mapping movements and barriers whilst travelling on the water. This became a starting point to create an equal experience for all passengers. The designer drew a spiral walkway which became an external ramp avoiding the need for lifts or stairs.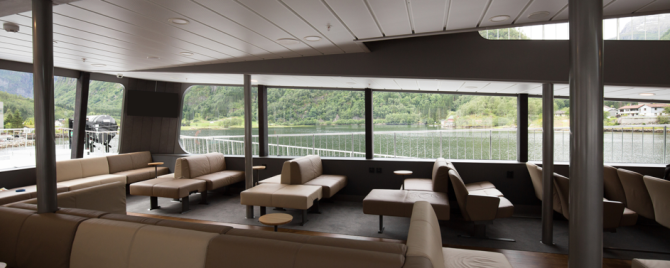 METHODS
Inclusive Design was embedded throughout the project with a vision to include tourists of all abilities. Inclusive Design insights from previous passenger boat research helped the project, showing the importance of curating findings from previous work. The Regional County of Møre og Romsdal had disability representatives as consultants, and in Sogn og Fjordane, local Inclusive Design champions were appointed.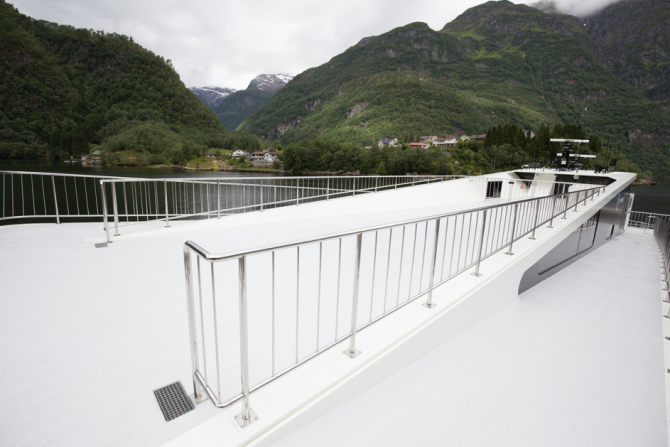 INSIGHTS
Very few shipbuilders design boats with Inclusive Design in mind. However, Flåm AS understood the growing need for inclusive tourism. Regulatory requirements, ramps, tactile signs, lighting, wayfinding, maintenance and materials were all considered. The boat design needed to reflect local context and drew design inspiration from waves, the Trolls' Path (Trollstigen) and nature trails.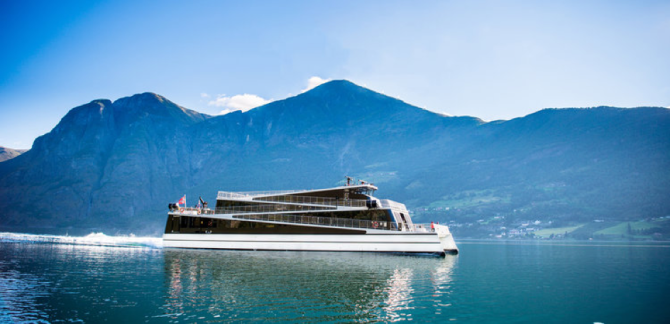 RESULTS
The boat is a radical and pioneering design that is fast becoming a modern icon. The innovative gangway enables access for passengers with wheelchairs, strollers or reduced mobility alongside everyone else. All doorways have ramps and handrails. The interior has panoramic windows so everyone can enjoy the view side-by-side. Any passenger can get from the main deck to the top deck with little effort. Passengers can orientate themselves around the interior with spacious furnishings and defined walking zones – the seats next to aisle use different colours and materials to emphasise pathways.
It is a hybrid, and 100 per cent emission-free and silent when running on batteries, allowing passengers to hear natural sounds around them. Advertising only appears on a downloadable app and hearing loops avoid noisy loudspeaker systems. Other Inclusive Design elements include handrails along the walls, tactile marking on the stairs, and understandable and tactile signage on bathroom doors.