Solvik Service Building
Solviks Venner is a membership organisations for people with various degree of disabilities. Their service enables people with reduced functional ability to apply for a caravan space at Solvik Camping or to use this protected cultural heritage site on a daily basis.
Client: Municipality of Oslo, Care-buildings Oslo KF, Department of Real estate and Urban Development, The Foundation Solviks Venner, The Norwegian Blind Association
Architect: Flux Arkitekter
Lead users:
The Norwegian Association of the Blind and Partially Sighted, various user groups with different impairements
Methods:
Cooperation with interest organisations, interviews, workshops
Awards:
Winner of the Innovation Award for Inclusive Design 2017 in the category of Architecture by Design and Architecture Norway and the Norwegian Ministry of Children and Inclusion
105 m2
heated use area distributed among
1000 users
I believe that Universal Design will become increasingly more naturally integrated into architecture in coming years without creating an institutional feel. The design of venues and spaces for people to linger and to have a positive experience requires human empathy.
CHALLENGE
The service building, constructed in 2015, had a low design and construction budget for a needed renewal to meet the requirements of universal architectural design that was appropriate for disadvantaged user groups. The project was commissioned by the City of Oslo with user input from Solviks Venner and guidance from the Norwegian Association of the Blind and Partially Sighted.
The previous facilities were narrow and draughty, and were poorly designed for a variety of individuals including wheelchair users, people with hypersensitivity towards cold, and those with functional impairments. With an increasingly aging population, changing room facilities at public bathing spots and recreation facilities were perceived as a future challenge. The area is a protected cultural heritage site; therefore, it was necessary to carefully adapt the architecture to the large pine trees to preserve the bedrock.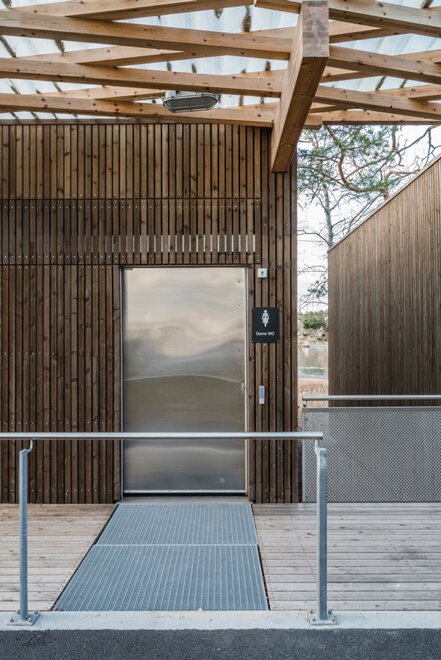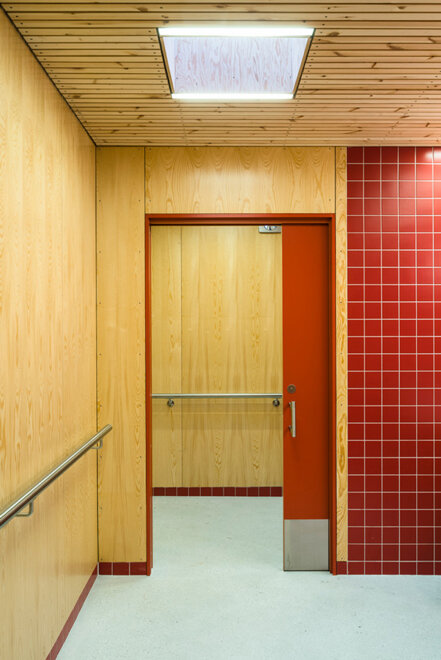 APPROACH
For the architects, it was important to promote an aesthetic sense of community architecture alongside universal design values in this project.
They held meetings with different user groups throughout the whole design process. This uncovered many important insights around the inadequacy of the existing building with specific shortcomings, such as the space being too narrow for wheelchairs. A schematic outline of the available space was created which helped maintain the input of the user group. The Norwegian Association of the Blind and Partially Sighted was also included to give advice on which materials to use and how to create visual contrast for people with visual impairments.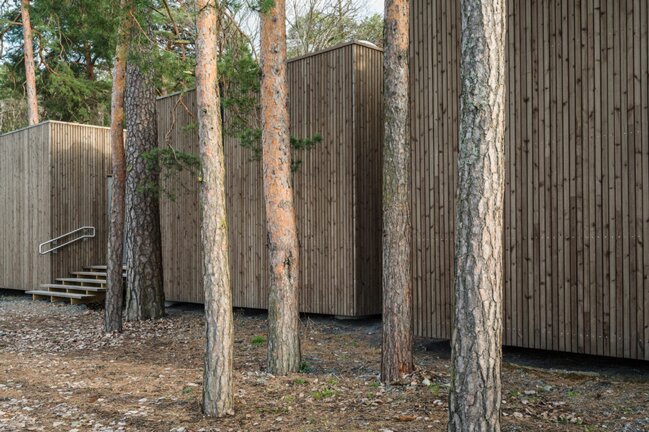 For us, it is important that the architecture enriches the area, fits in with the surrounding nature and buildings whilst at the same time adding modern and optimistic qualities to benefit everyone who experiences it. It's more than just improved functionality and services.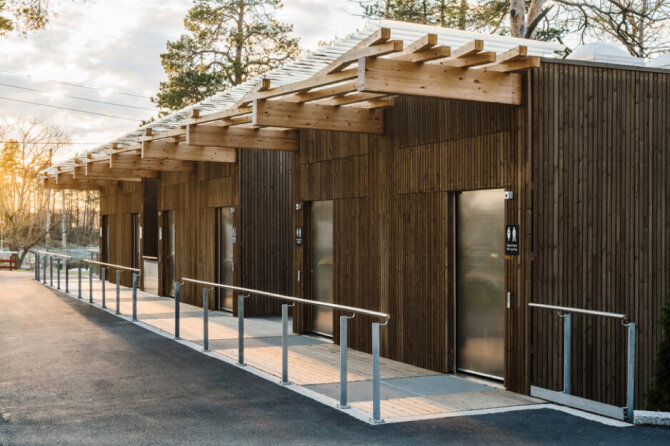 RESULT
Through constant collaboration with users, the architects understood their various needs, and this gave the project a strong starting point for innovation. By translating these needs using the processes of design and architecture, they have created a solution that functions well for everyone, and appeals rather than repeals. Nothing was assumed by the architects and as a result it feels appeasing and natural for families, older people and the range of other visitors.
The use of robust, definitive colours alongside natural and tactile materials creates an extremely attractive look. Good downlighting has been integrated and functional sectioning of the rooms is set off by the use of clear colours and tactile signs. The new facility has been designed to be accessible to people with large motorised wheelchairs that are suitable for outdoor use through easy access via automatic sliding doors. The terrain has also been gently adapted to remove the need for stigmatising ramps or thresholds.
Solvik is an example of a low-tech, low cost solution with the ability to be scaled up. It is a simple, energy-saving design that is inexpensive to maintain.