Scandic Hotels
Scandic Hotels Group is the largest Nordic hotel operator with a network of about 280 hotels in six countries. Their Hotels for All concept implements improvements in their rooms, restaurants and services that will increase accessibility for all guests.
Company: Scandic Hotel Group
User research: Magnus Berglund, Accessibility Director, Scandic
Background: Scandic began to focus on accessible environments in 2003. In 2009, they became the first hotel chain to place fact sheets about the accessibility of their hotels on their website
Specific for Scandic Oslo Airport:
Client: Utstillingsplassen Eiendom
The Norwegian Asthma and Allergy Association (NAAF)
The Norwegian Federation of Organisations of Disabled People (FFO)
Interior design: Narud Stokke Wiig Sivilarkitekter, Arkitektarna Krook & Tjäder AB
Lead users:
Members of disability organisations, hotel guests with disabilities, hotel staff and Scanidc's board of directors
Methods:
Focus groups with staff an key decision makers, consulting with interest organisations
Awards:
Scandics work has been highlighted in the UN, on CNN and in numerous forums and received several awards.
Including:
Best accommodation for disability access at Responsible Travel's World Responsible Tourism Awards 2015.
Scandic Oslo Airport was the M

ain Winner of the Innovation Award for Universal Design 2011 and winner of the category for furniture and interior design by Design and Architecture Norway and The Norwegian Ministry of Children, Equality and Social Inclusion
The best proof that we're doing the right thing came from a guest. She told me that when she is staying at Scandic, she is treated just like any other guest and not like a disabled guest.
CHALLENGE
There are over 50 million people in Europe with some form of disability, and staying at hotels can pose a challenge for many of them. The President and CEO of Scandic, Frank Fiskers, saw accessibility as an important factor in improving desirability and opening Scandic hotels to a wider market. Scandic Oslo Airport sets a new standard in the way that they have integrated universal design. As the first hotel chain to do so, they have considered all user groups in their business strategy as it shows that competitive advantages and profits can be obtained through full commitment to the inclusion of all types of guests.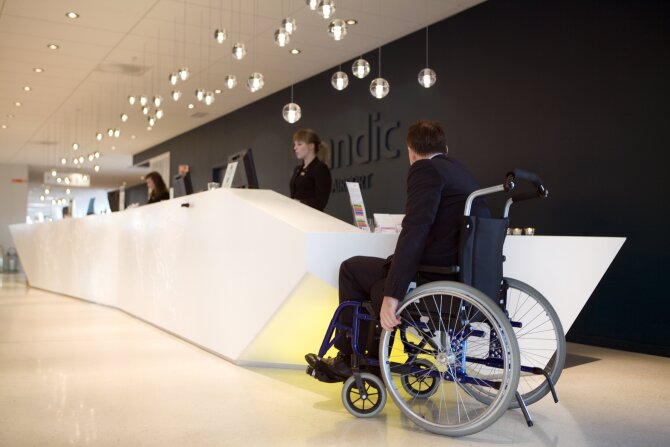 LEAD USERS
Hotel guests with disabilities and members of disability organisations were the lead users in the insight phase of the development of first Oslo Airport Hotel, and then used the experience to scale and improve when building new hotels. User insights also came from 'expert users' such as Scandic's board of directors and members of the hotel staff by placing them in the situation of lead users with reduced abilities.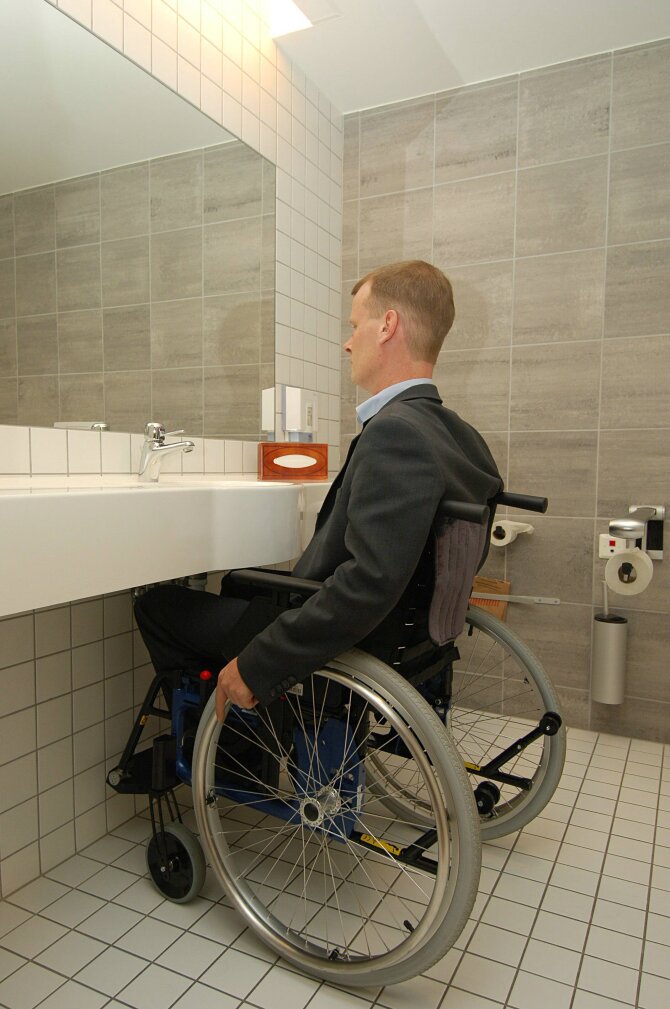 METHODS
In 2003, the hotel chain engaged Magnus Berglund as its Disability Ambassador. His first course of action was to hire several wheelchairs for Scandic staff to use. Over a time period of three months they were all able to see life from the perspective of a wheelchair user. Although being in a wheelchair is just one of many disabilities, Berglund saw it as an excellent way to get people discussing the issues. This immersive method of research allowed key decision-makers and staff at every level to experience the difficulties firsthand.
Berglund and his team members worked with disabled guests and disability organisations to develop an accessibility standard for their hotels, resulting in a 93-point checklist. 77 points are compulsory for every Scandic hotel, but all criteria have to be met by new hotels currently being built. The list is now extended to 159 points and other hotels have adopted this approach.
An important part of accessibility for Scandic is about the quality of service and the attitude of the employees. Every member of the hotel staff is therefore given training to aid them in understanding what they can do to make guests of all abilities more comfortable. This can simply mean placing food in a buffet within sight and reach of everyone or understanding how a hearing loop works.
INSIGHTS
By putting Scandic staff members into a wheelchair, useful insights were discovered at first hand on the needs of people with disabilities.
"Does the mirror need to be so high up?"
"How do I reach the coffee cups at the breakfast buffet?"
Consultation with lead users provided other insights. One person asked about how her mother who has reduced hearing would be woken up by the fire alarm at a hotel. This was the inspiration behind the Scandic vibrating alarm clock that also turns on when the fire alarm goes off.

The interior also takes into consideration people with environmental impairments, i.e. asthma, allergies or other sensitivities. For example, there are carpet-free rooms, allergy-friendly textiles, paint and materials with very low gas emissions. The staff use cleaning detergents sparingly and only use unperfumed products.
A major hotel chain should be accessible even if you've broken a leg, have impaired hearing, use a wheelchair or for other reasons need a little extra consideration.
RESULTS
Scandic's design process is an ongoing, long-term plan for developing existing hotels, building rooms and training staff members to have a better understanding of accessibility and the various needs of their guests.
Some key features on Scandic's checklist are listed below:
Height-adjustable bed*

Telephone on the bedside table along with the remote control

A space of at least 80 cm around the bed

Vibrating alarm clock and fire alarm available on request

Hooks placed at different heights so they can be reached from a wheelchair

Mirror at a suitable height for wheelchair users as well as standing guests

Handrail on the inside of doors at a height that can be closed from a wheelchair

No or low thresholds at doorways

Single-grip mixer tap or automatic tap*

Washbasin placed at a minimum height of 78 cm* so a wheelchair will fit under it.

The hook, soap and hand towels are also easy to reach

Toilet paper holder on the armrest of the toilet

Hearing loop available for meeting rooms

The doors are at least 80 cm wide, so that guests can get through with a wheelchair,

crutches or a walking frame*

The stage is accessible for wheelchair users*

*Only applies to some hotels.
All these features are not designed to look like "special needs" equipment or add-ons. More accessible solutions and services is something that everyone, including able-bodied guests, can benefit from. Scandic hotels have positioned themselves to attract large numbers of disabled people looking for a better hotel experience.
By going beyond the minimum requirements and including beautiful, functional and thought-out solutions for furniture, fittings and architecture at all levels the Scandic hotel Group have set the benchmark. They have inspired other commercial actors to see the potential of improving their level of quality and increase their market share by investing in universal design, and other hotel chains have now their own set of inclusive design requirements.