The business of Inclusive Design
One of the challenges facing the global business community is to engage with design in a more strategic, people-centred way. It is no longer a question of using design to meet purely aesthetic, functional or emotional needs.
A GROWING IMPORTANCE
Design can play an essential role in promoting sustainability, enabling human rights and creating social inclusion. The business value of design is now well documented. Companies that can use design to work with real people, will better understand consumer need and respond to emerging trends and create more novel solutions. Inclusive Design, with its people-centred innovation stance, can increase profitability and help you leave the competition behind.
As well as describing an approach, Inclusive Design is most effective when put into practice. It allows companies to view existing customers in a more realistic manner, and to expand into previously untapped markets.
Since Inclusive Design promotes design for human diversity, social inclusion and equality, it has great resonance in the current political climate in which addressing human rights and exclusion is high on the agenda, and the need for empathic approaches is stronger than ever. Inclusive Design strategies can help companies to be more socially responsible by enabling greater diversity and providing equal opportunities for customers, clients and colleagues alike.
This can form a key part of a company's Corporate Social Responsibility and elevate its public perception. Furthermore, according to McKinsey, companies with a more diverse workforce in terms of gender and ethnicity, actually perform better financially.
If a company is prepared to spend 3 percent of its turnover on technology, it might achieve the same effect through design with only 0.3 percent
NEW LEGISLATION – NEW OPPORTUNITIES
Both nationally and internationally, governments and policymakers are writing Inclusive Design into new laws and standards. Legislation is being passed in order to counter discrimination and minimise exclusion. The United Nations, the European Council, the European Union, and the Nordic Council of Ministers have all progressed directives regarding the principles of Inclusive Design.
In 2006 the United Nations agreed on the Convention on the Rights of Persons with Disabilities. This was the first human rights treaty of the 21st century, aimed at increasing and upholding the rights of the estimated 1 billion million disabled people across the world.
In Norway, the Public Procurement Act stipulates that public procurers are required to choose product and service solutions that meet Inclusive Design criteria. Suppliers 25 who comply with these demands will be preferred.
The scope of this legislation has a far-reaching effect. All new public buildings, environments, and services in Norway have to fulfil the requirements of Inclusive Design.
Public transport and public digital communication services must also be accessible to people with different needs and abilities.
"Social business is the new business"
However, whilst new legislation can be seen as a challenge, companies who adopt an Inclusive Design approach can turn this into a business opportunity and create competitive advantages. Aligning business practice with these changes in law and policy means that you will become the preferred option in the future.
In 2018, more than half of Norway's adult population is aged 55 or over. By 2050 the number of people over the age of 67 will have doubled.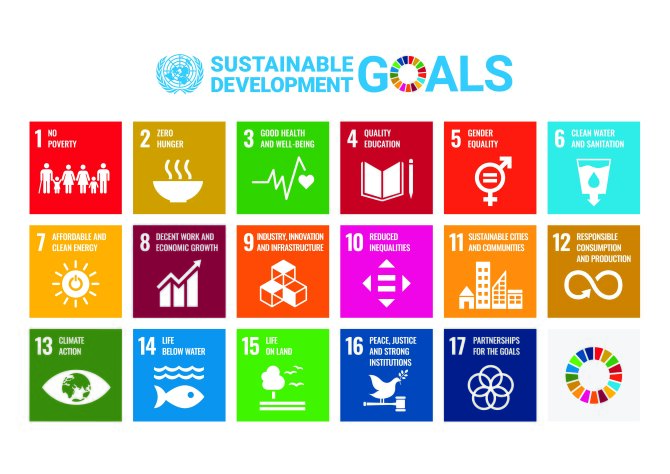 A CREATIVE STRATEGY
Designers and architects have a role in demonstrating the value of Inclusive Design to their clients, managers and colleagues. The close relationship between them and the innovation process means that they are ideally placed to incubate an Inclusive Design approach or champion it within an organisation. Those designers and architects who have built up expertise in Inclusive Design can differentiate themselves from their peers, and are now seen as more attractive in today's competitive markets.
Inclusive Design is part of sustainability, and designers need to address all three aspects (social, environmental and economic) when designing solutions. A holistic perspective is needed across a framework of positive innovation; people, planet and profit. The UN's 17 Sustainable Development Goals provide strong guidance when designing for the future. They can add value to any project.
The dichotomy between meeting the needs of people and planet, as well as working within commercial constraints, can provide a space in which designers are pushed to create inventive solutions that satisfy all demands. The area of overlap between commercial, social and environmental interests represents the greatest potential for innovation in any project, as shown in the diagram. In the following, emphasis is put on social and commercial interests.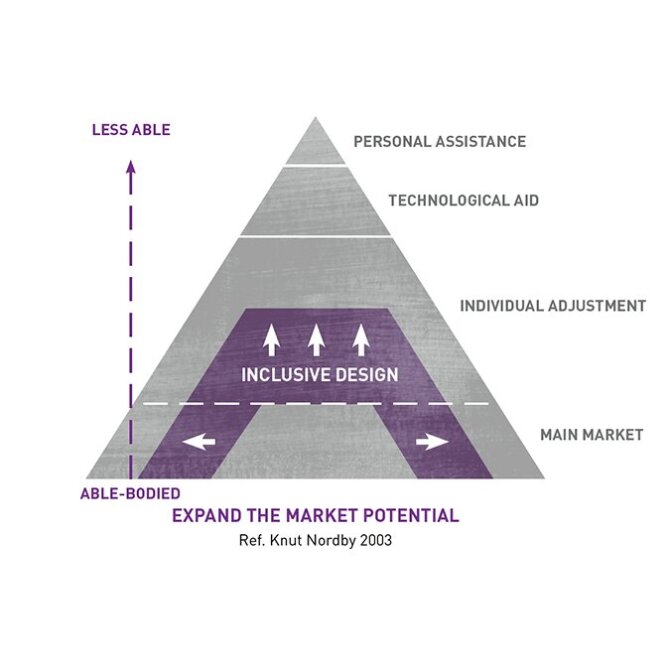 INCREASING MARKET POTENTIAL
Inclusive Design can help to increase market potential by widening the appeal of a design beyond the primary target market. At the same time it continues to attract for customers within the primary segment, simply because the solution is better for everyone.
The pyramid diagram demonstrates this potential for expansion. At the bottom is the main market, or primary segment, characterised by healthy and able-bodied customers who are traditionally called 'the average consumer'.
The next segment represents a large number of people: those who need some individual adjustment. For example, this could include left-handed individuals, people with dyslexia, expectant mothers, travellers with heavy luggage, tourists in foreign countries, low vision or groups with reduced hearing. This area holds the most significant potential for companies to address.
The top two segments show people who need specialised design, assistive technology or personal assistance to complete simple daily activities such as bathing, eating, or moving. Since their needs differ greatly from the mainstream they are generally not considered to be markets in an Inclusive Design approach.
Consumers, especially the marginalised groups in the individual adjustment segment, represent a powerful tool for innovation, giving companies a way of exploring needs that current designs have not yet addressed. This represents an opportunity.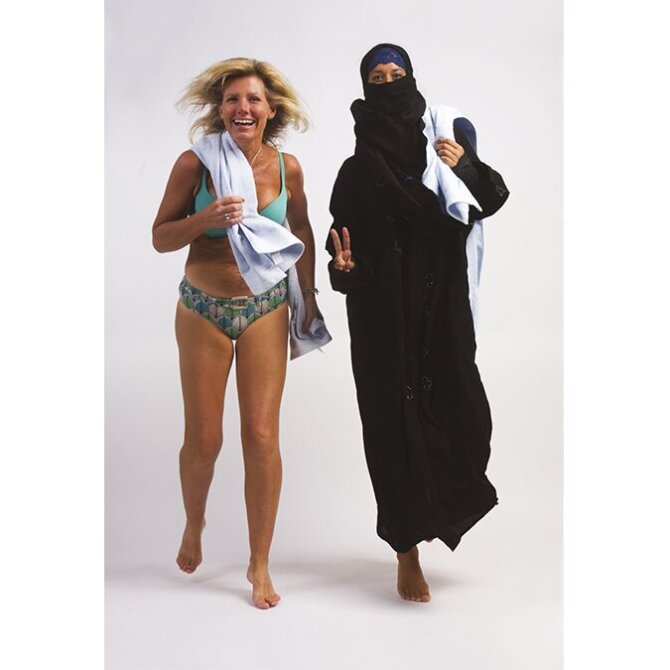 A HOLISTIC WAY OF THINKING
An Inclusive Design strategy does not need to be limited to the design process. It can be a foundation for companies to base their entire business philosophy on. An inclusive way of thinking can impact on employment policy, staff management, customer service, communications strategy and marketing, for example.
This implies that the design disciplines and other areas of expertise must cooperate in formulating a holistic approach that roots itself in company culture, policy and practice. Implementation at both a management level and throughout the organisation is equally important.
Practising Inclusive Design and conducting people-centred research require a minimum amount of investment when compared to technological research and product development. It is therefore a low-tech, cost saving and uncomplicated method for innovation, with low barriers for implementation for any company, in both the short and long term.