Schandorff Square
Schandorffs Square is a small modern park converted from a former parking lot in the centre of Oslo. The transformation has resulted in an inclusive transport route and social space for everyone to enjoy. The project is also a good example of how a private real estate developer can participate in the development of public infrastructure.
Client: Höegh Eiendom AS
Landscape Architect: Østengen & Bergo AS
Contributors: Property and Renewal Services, Oslo Municipality
Background: The dead end Schandorffs street in the centre of Oslo was converted from a car parking lot to an urban green space, Schandorffs Square. The square was privately financed by developer Høegh Eiendom AS and donated to the municipality when completed. The design is based on a desire to make the transport route between Fredensborgveien and Akersgata accessible. The greatest challenge was a seven-metre height difference which made the area only accessible by stairs.
Lead Users:
Various user groups including visually impaired and wheelchair users. They also established a close connection with Norway's Asthma and Allergy Association - allergy friendly plants
Methods:
Research, insights and testing
Awards: Innovation Award for Inclusive Design, category Landscape Architecture 2011 awarded by the Ministry of Children, Equality and Inclusion and Design and Architecture Norway (DOGA)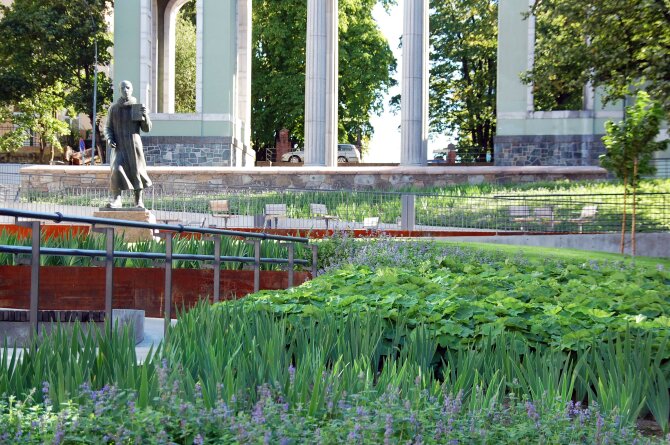 CHALLENGE
The property company Høegh Eiendom AS owned the building in Akersgata 64-68 on the north side of the square, previously Schandorffs Street. When redeveloping this property the municipality of Oslo demanded that the earlier parking lot should be converted into a public space. Høegh Eiendom AS contacted the Norwegian landscape architecture company Østengen & Bergo AS with the brief of making this into an attractive urban space.
The area had a height difference of seven meters and this presented a big challenge. There was a gradient of 14 – 15 % which needed to be adjusted to a maximum of 5 % in the end solution. Schandorffs street also ended at a substantial wall, but one worthy of preservation, a wall that could only be crossed via steps.
As well as the height difference, there were a number of other practical challenges. Høegh had originally thought of building a car park beneath the square, so there was no need for the landscape architects to take account of existing drain pipes and other mains systems in the ground, as these would be moved anyway. However, at the detailed planning stage a year later, the car park idea had been shelved. This meant that the landscape architects suddenly had to take account of everything that was in the ground after all. For example, a high-voltage cable running underground and solutions for this had be worked into new plans.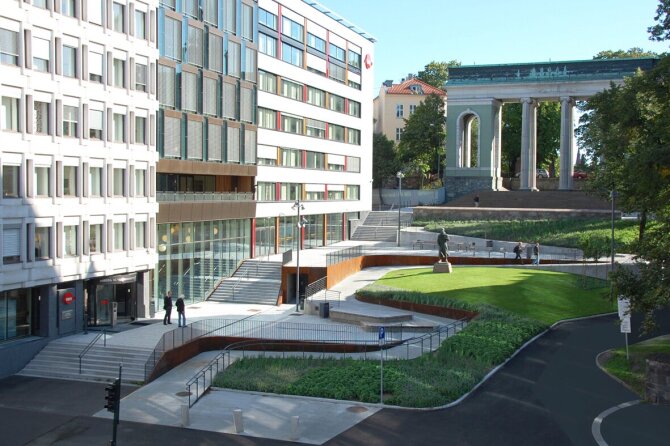 METHODS
Østengen & Bergo decided from the start to make universal design a key driver and method in the design of the park. During the work they gained valuable input from different user groups, and tests were also carried out involving wheelchair users.
The planting became an important aspect of the square and they worked with Norway's Allergy and Asthma Association to find the right mix of plants without allergens suited for all seasons with a low need for maintenance.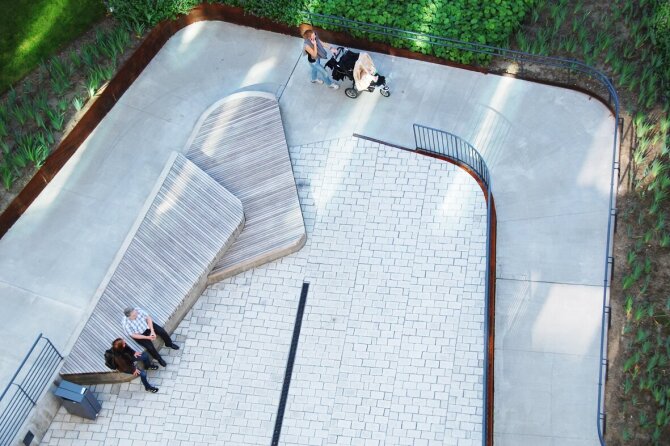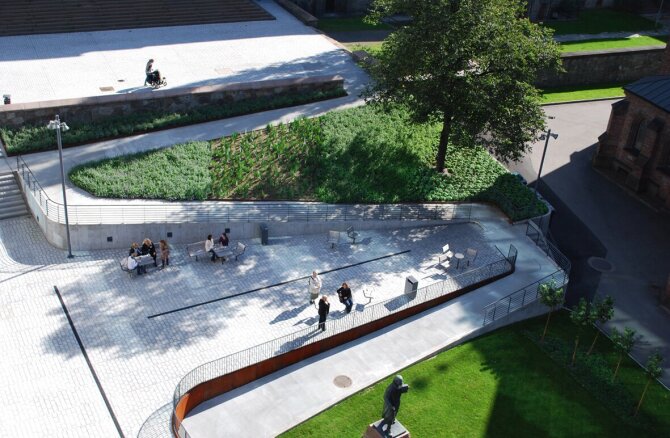 RESULTS
Schandorffs Square has become an attractive and central urban green space to be enjoyed by many. The design unites venerable old buildings and modern office blocks and an elegant meandering ramped pedestrian route has become a defining and characteristic feature of the square. The slope was designed as a winding walkway and in order to deal with the gradient requirements, the walkway had to pass through the old wall. Fortunately this was accepted by the authorities responsible for preservation regulations. A fixed timber seating, hiding the high-voltage cables, soft landscaping and a newly planted cherry grove have created a tranquil oasis and welcome meeting place in a dense urban setting.
Accessibility for all has been successfully implemented with a large number of resting places for weary walkers. There are handrails and banisters along the walkway and on all the stairs. There are also marked steps in the stairs and warning panels with tactile knobs at the top and bottom. The design includes natural guiding lines, such as edges and facades. Next to the walkway and squares, adjacent vegetation and edges in corten steel provide a good visual contrast to the light surface of the slope and serve as guiding elements. Emphasis has been placed throughout on contrast in the colours and surfaces of the materials. In addition, non-slip materials have been used. The furnishing comprises freestanding chairs, so that it is easy for a wheelchair to be included around a table. There is disabled parking at the end of the square.
Schandorffs Square is accentuated using a different colour tone from the city's other squares. Corten steel is used for vertical walls in combination with raw concrete, stone, lawns and perennials in various blue tones producing a warm mood. During the process Østengen & Bergo were conscious of a fairly sober view of the planning process. Although the assignment was relatively complex, like everyone else they had to think in terms of costs. The materials used aren't particularly expensive, but show great care in every detail. There are clean lines and lavish contrasts, good navigability, and everything is open and transparent.