Melin Medical – inclusive patient payment system
Dr. Jesper Melin saw the need for a payment service easy to use for everyone and freeing valuable time for doctors to spend on patient-focused work. A design process combined with Jesper Melins extensive knowledge and experience as a doctor has resulted in a self-service payment system freeing up time for the benefit of patients and health professionals.
Client: Melin Medical AS
Design: Designduo Smedegaard & Weis Industriel Design
1 M to
70 M
NOK growth in the two first years after launch.
Our success is also due to the fact that accessibility for everyone was a natural approach in the process, right from the initiation of the project. One important factor is that everyone involved had the same vision, which was to place the user in the centre at all levels.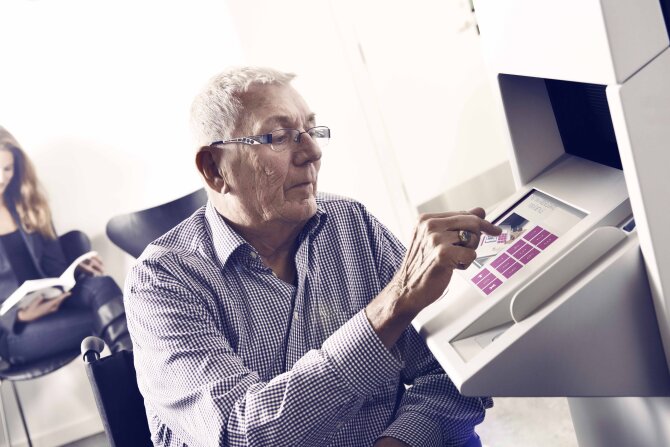 CHALLENGE
As a doctor Jesper Melin saw the need for a solution connecting the various specialized systems used by doctors, such as accounting, patient records and managing the patient's payments. He experienced that a lot of time was spent on administration, time that should rather be spent on patient-focused work and saw the potential and benefits of patients administer their own payments in a simple and intuitive way allowing the general practitioners and therapists more time for treatment.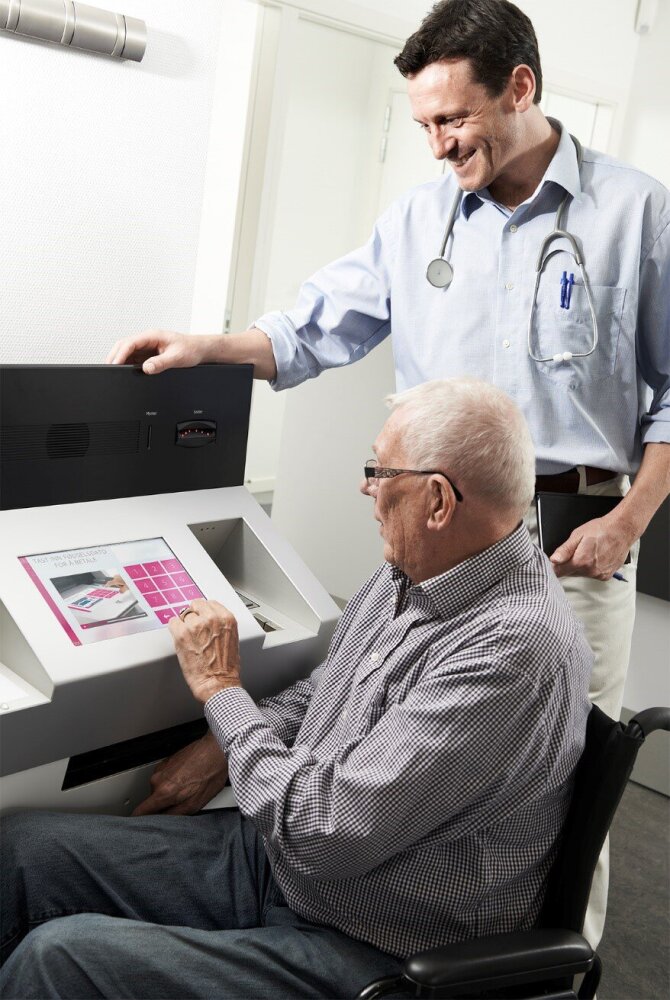 APPROACH
Jesper Melin had the business idea and outline for an underlying IT system and saw design as the key to success. He contacted Design Duo Smedegaard & Weis Industrial Design and gave them extensive freedom in the design process.
From the start, it was important that the design was based on an inclusive design approach with a clear focus on individual users and their abilities and opportunities to be independent of others. The company put great effort into achieving a solution that can be used by anyone whether youths, elderly, visually impaired or for people to whom technology is a barrier – as well as standing, seated in a wheelchair or even lying on a stretcher. Keeping in mind that this industry is about caring.
In order to develop a solution giving a sense of empowerment and benefit to all users, they obtained important insights through collaboration with patients, doctors and technical subcontractors, qualified personnel and designers as well as interest groups and organisations such as the Norwegian Association of the Blind and Partially Sighted.
Our fundamental principle has been to obtain specialised knowledge from the inside. We have immersed ourselves deeply in the context of health, and we believe that we have been successful in adapting.
The height and size of the terminals are chosen to make them accessible to those who use wheelchairs or walkers, and their placement in the doctor's office or other medical practices has also been carefully thought through. To pay requires only two clicks, which simplifies the process for people who find digital technology challenging. High-contrast buttons, colour-coding, symbols and sound sensors enable visually impaired, blind and colour blind people to use the terminals.
The payment system has been thoroughly tested throughout the process. Both the design and development team and staff at Melin Medical have been placed at the clinics during the development and update work, so that everyone involved had the opportunity to observe the solution in use and gain insights of how patients, GP's and other health personnel experience it.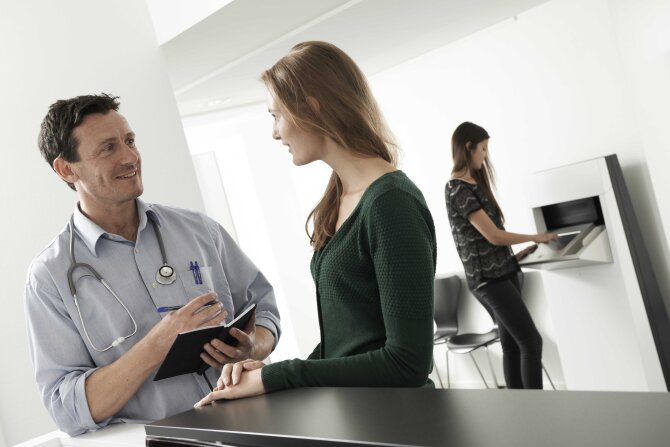 RESULT
A self service terminal system is in itself not a new idea. The company is innovative in how they develop and integrate new services with existing systems in their target market through a holistic and inclusive design approach. This is a complex project with many elements and high demands on personal and payment safety. Basic well-thought-out features and stable operation are conditions for accessibility for all, including end-users, daily service, and technical support. In a country with an infrastructure like Norway service friendliness is extremely important.
The solution save approximately 20% of a doctor's time. With all documents and data collected and up to date in one place the GP's offices gets a better overall picture. An accountant can also access the system electronically when needed. What is most important is still the patient's experience. Lighting, acoustics, colours, tactility: the way in which the terminal uses all senses makes it easy for all to understand and use.
After the launch Melin Medical experienced strong growth from 1 million to 70 million NOK in revenue in two years and the solution was early on installed in 80 % of Norway's general practitioners offices in addition to the offices of various physical therapists, chiropractors, psychologists and private hospitals. They have 50.000 using the terminals every day choosing to pay by cash, card or later at home by internet. Inclusive design is an important and causative factor for success in the innovation process. This is a brilliant example of how design for all as a guiding star pays off.