Learning and Play with Kahoot!
Kahoot! is a global education brand for the way people learn today. With over 70 million unique monthly users, its game-based platform enables accessible, meaningful, and playful learning experiences, in classrooms and beyond.
Company: Kahoot!
User research: Johan Brand and Jamie Brooker, Co-Founders of Kahoot!

Background: The Kahoot! platform and brand was developed by the founding team lead by Johan Brand, Jamie Brooker and Morten Versvik. The quiz is based on research carried out by Professor Alf Inge Wang and his colleagues at the Norwegian University of Science and Technology (NTNU). The technology platform itself is based on the research conducted by Morten Versvik for his Master's degree at NTNU. The Pedagogy and User Experience is based on work by Jamie Brooker and Johan Brand, developed while working at their behaviour design company We Are Human in London.
"A class without Kahoot! is like a car without wheels"
Vanessa Ngyuenn
1.6 billion people
have played Kahoot!
CHALLENGE
One of our most universal human needs is to learn – to discover our world, to connect and to grow. This doesn't start at school; it starts from the moment we're born. Today, the greatest challenges to people realizing their deepest potential aren't just outdated curriculums or class work; it's the learning experience itself.
How we learn is as important as what we learn, and the way we're learning about our world and participating in it has changed fundamentally. How can we make the learning experience more relevant, inclusive and powerful to all students, no matter their age, background or needs? How can we bring the child at the back of the class to the front, for all the right reasons?
With these ideals in mind, Kahoot! was born out of the aim to support as many different types of learners as possible. It was designed specifically to tap into the universal desire for growth, inclusion and achievement in each and every one of us.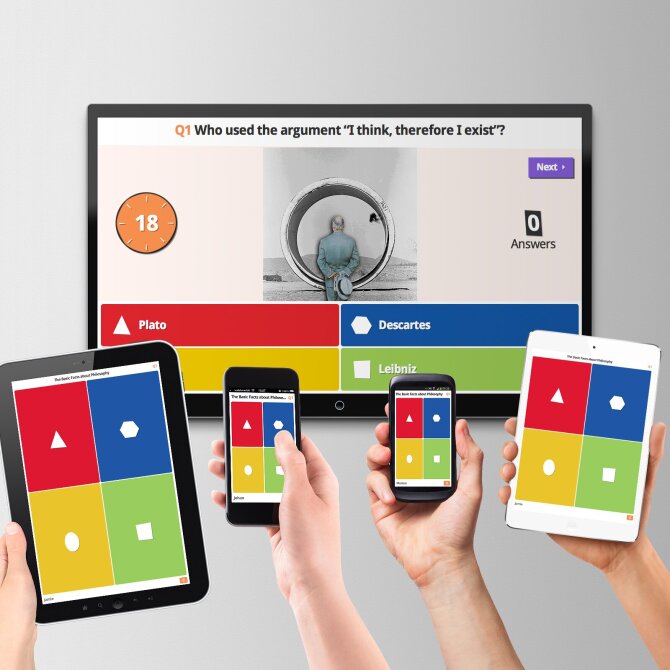 APPROACH
Kahoot! is a culmination of several years of research and knowledge in user-centred design, behaviour design and play by its co-founders, Johan Brand and Jamie Brooker, whilst working at their behaviour design company We Are Human in London. The technology platform itself was based on research conducted by Morten Versvik and his professor Alf Inge Wang for his Master's degree at the Norwegian University of Science and Technology (NTNU). Many different approaches were considered, tested and measured for impact in terms of student engagement and learning value.
Devised from typical behaviour, gaming and teaching models, the Kahoot! platform was uniquely designed to ensure that all students can participate in the classroom in a way that they are comfortable with. By having their name listed on the screen at the front, Kahoot! brings the child at the back of the classroom to the front, for all the right reasons.
Moreover, Kahoot!'s game-based pedagogy creates a cycle which empowers learners to present and share their new-found knowledge to their peers, so they can go from "learner to leader". This suits different learning styles - some students are skillful at playing Kahoot!, whereas others excel at creating their own quizzes, surveys and discussions.
In terms of technology requirements, Kahoot! doesn't require an account or email address to play, simply an internet connection and any device with a web browser. This device agnostic design means that Kahoot! is accessible to varying types of technology environments. Anyone is able to join a Kahoot by entering the unique game-pin into their smartphone, tablet, laptop or desktop, in a matter of seconds. It is perfect for school BYOD schemes, or if students and schools lack enough devices, can be easily played in teams. Additionally, Kahoot!'s user interface is in English, but its user-generated content framework means it is accessible to non-English speakers.
An ally of inclusive education, Kahoot! is also designed to suit those with learning disabilities and special education needs. Its use of imagery, visual cues (such as different colours and shapes), and it's simple Easy Read-friendly question and answer format means it can be used by students with various learning needs, either as a group or in one-to-one sessions.
This inclusivity ensures Kahoot! can be accessed with ease by a wide range of audiences - from older, less tech-literate learners, to 5-year-olds in kindergarden, to teenagers playing Kahoot! at home with their friends, to corporates using Kahoot! at a business conference.
RESULTS
As of January 2018 the platform reached more than 70 million unique monthly active users, growing at a rate of 75% year over year. More than 1.6 billion players have played on the Kahoot! platform cumulatively since its launch in 2013. This makes Kahoot! one of the most widely used technologies in K-12 classrooms in the world.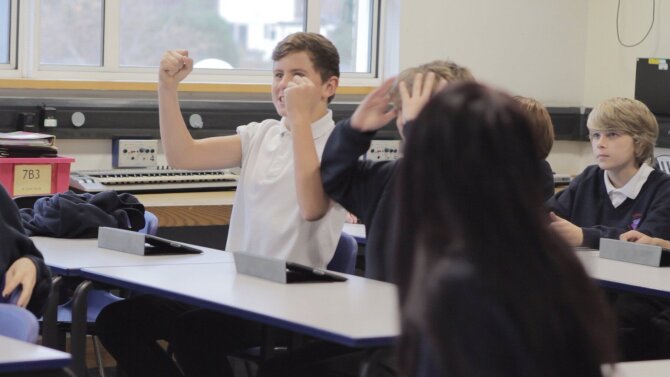 CONCLUSIONS
Unlike most other education brands, Kahoot! is designed for the learner in us all - whether students desperate for a more engaging learning experience, or teachers hungry for better ways to capture the hearts and minds of their classrooms.
Play is our first language and shared by all humans. Therefore it's the foundation of our approach to an inclusive & student centred classroom. Inclusive design for us is both about the interaction design and the behaviours it instigates.