Vindmøllebakken - sustainable co-living
Vindmøllebakken is an innovative housing project in Stavanger in an otherwise homogeneous housing market. It was designed to offer people of different ages and life situations an alternative where residents live more closely together and share more, providing greater personal, environmental and economic advantages.
Architect: Helen & Hard
Builder: Solon Eiendom and Indigo Vekst
Main contractor: Kruse Smith
Partners:
Gaining by Sharing: Helen & Hard og Indigo Vekst in cooperation with Gaia Trondheim
Landscape architect: Multiconsult Stavanger
Timber construction: Holzbau Saurer
Timber construction prototype: Herman Blumer
RiB: Sweco
Sound: SINUS/Brekke & Strand Akustikk
Fire safety engineering: KONSEPTA
Energy: NIRAS
Communication: Aldente kommunikasjonsbyrå
Lead users:
Vindmøllebakken's residents, local politicians and community
Methods:
Interviews, consulting, user testing
Awards:
Category winner for Architecture, Innovation Award for Universal Design 2020
40 flats
sharing 520 square meters of communal areas
Challenge
Large cities face unique challenges with loneliness and high property prices. The housing market is currently dominated by a homogenous range of housing types with little to no consumer participation in the development process. Vindmøllebakken's architects and builder wanted to respond to this by creating something completely new, a housing form where residents live more closely together and share more, thereby providing greater personal, environmental and economic advantages. This way of living is based on a model for shared housing called Gaining by Sharing. It represents a more sustainable use of resources, contributes to a higher quality of life and makes it possible for more people to own their own home.
Vindmøllebakken is also part of a larger urban development in Stavanger, which aims to contribute to urban concentration and small-scale housing – a positive addition to the existing surrounding wooden houses.
The location was an older industrial area where the architects Helen & Hard already owned 1/3 of the land, and the contracting firm Kruse-Smith AS purchased the rest. A focus on repurposing, preserving historical elements and further developing existing qualities were important aspects of the development of Vindmøllebakken.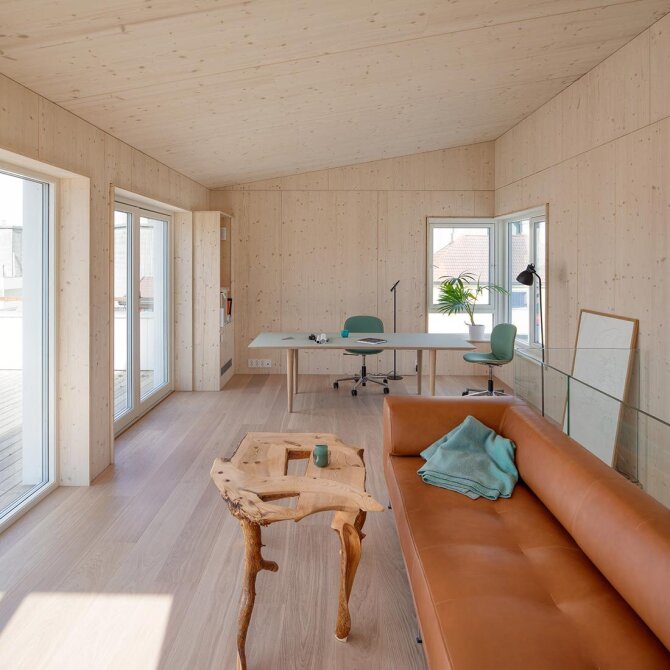 Methods
The Gaining by Sharing philosophy is designed by Helen & Hard architects and Indigo Vekst in partnership with Gaia Trondheim. It links the environment, material use, architecture, quality of life, and economy for all residents' mutual benefit.
To create something new like this requires drive, enthusiasm and the ability to carry through until completion, and it, therefore, took eight years until Vindmøllebakken was finished in 2019. A comprehensive shared housing model with a high degree of resident influence was developed as a counterweight to the housing market's otherwise limited options. An innovative building system in wood and strategy for an urban village structure adapted to the area's existing small houses, reflects a process featuring innovation on several levels.
Vindmøllebakken is the result of a partnership based on trust, in which the diversity of the parties involved has demonstrated flexibility, cooperativeness and understanding. Everyone in the project dared to challenge the conventional process and roles of housing development.
Lead Users
Vindmøllebakken's residents participated in several phases, both before and after the sale, and they got to know the concept and each other prior to moving in. The first buyers also had one-on-one meetings with the architect to achieve an individual adaptation of the private units. All of the flats are unique yet also attractive for resale. An important aspect of the project was to offer affordable prices to families with young children to ensure that they, too, would have the possibility to buy their own home.
Resident involvement was essential to forge a positive social community and housing form adapted to a diversity of residents of all ages and life stages. Throughout the entire development process, the architects, builder, local politicians and new residents boosted each other upward and onward as part of a joint and shared vision.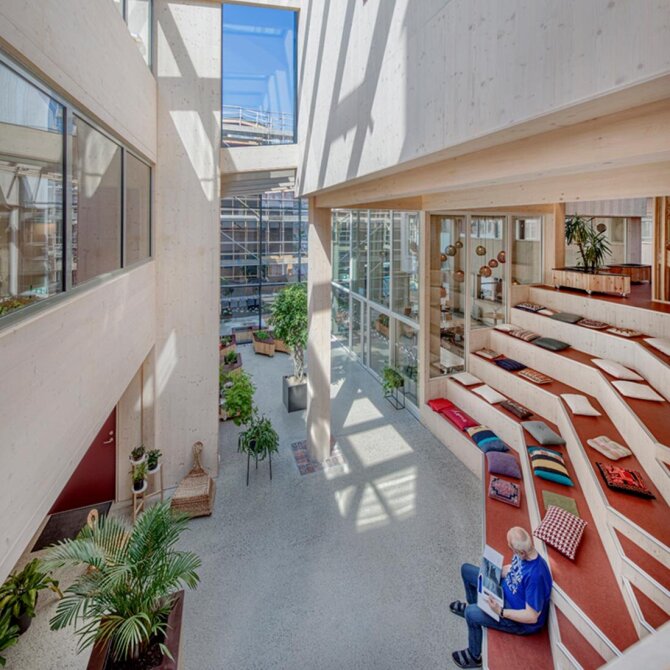 Insights
Human contact is an important part of universal architecture that cannot be designed but must be facilitated. Demographic patterns and social trends are shifting. The elderly are in better health overall and live longer than in the past. There are increasing numbers of single and part-time parents.
The number of single households is also increasing, and more and more people want to live at home for longer. Many single parents, split families, immigrants and those who would like a greater sense of security and more social contact benefit from an alternative housing model.
Results
In the mini community of Vindmøllebakken, everyone can enjoy an attractive private housing unit, while at the same time experiencing a sense of belonging in a social community. They can use facilities and space that they would otherwise not be able to own on their own, so sharing enables them to own less while enjoying a greater financial benefit.
The project consists of 40 housing units of varying sizes designed as a small village with around 500 square metres of common areas that are accessible to all, including an amphitheatre, dining area and shared kitchen. The courtyard and multipurpose rooms are centrally located, and the flats encircle the various common areas. The residents also share three roof terraces, a lounge and conservatory with views of the city, a guest apartment, areas for relaxation, play and hobbies and a range of other facilities that inspire shared use and make it easier to have visitors.
Universal principals is discretely incorporated to avoid the feeling of institutional housing and provide easy access to all areas for everyone. The range of colours used in the interior and choice of materials such as wood support the homelike atmosphere and the interior climate.
The flats were deliberately designed in various sizes and layouts to create different types of homes, suited for a wide range of needs, budgets and family situations. It was important to offer affordable prices to families with young children to ensure that they, too, would have the possibility to buy their own home. The current owners include both single residents, families, young and old, and people from different cultures looking to enjoy a greater sense of social belonging and a safe, homelike environment.
Vindmøllebakken has attracted considerable interest from both private housing developers and public agencies. Helen & Hard are currently in the initial planning phases for new 'Gaining by Sharing' shared housing projects in Alta, Mandal and Arendal.