NRK TV – the streaming service everyone loves
NRK, the Norwegian Broadcasting Corporation, is the public service broadcaster in Norway. By applying inclusive design in everything they do, NRK has developed a world-class streaming service that enables everyone to enjoy its rich programme catalogue.
Commissioning party: NRK
Design: NRK
Lead users:
User council with representatives from Norwegian Federation of Organisations of Disabled People (FF), Norwegian Forum of Disabled Peoples' Organizations (SAFO)
Methods:
Interviews, consulting, user testing
Awards:
Category winner for Information and Interaction Design, Innovation Award for Universal Design 2020
90%
uses NRK's services daily
Challenge
NRK's mission is to unify and engage everyone who lives in Norway by providing the entire population with access to a broad range of content. When the streaming service, NRK TV, was first launched in 2003, it was highly unusual to watch TV online, and not many foresaw how huge this platform would become. Since then, NRK TV has undergone a tremendous transformation, both visually and functionally.
On an average day in 2019, 89 per cent of the Norwegian population used one or more of NRK's services on television, radio, text-TV, web or mobile. This means that NRK TV, which has a growing number of users, gradually plays an increasingly important part in NRK's role in society.
Evolving in line with people's needs and trends in the streaming market has been essential. At the same time, NRK wants to preserve the unique and quality aspects of traditional TV broadcasting. The broadcaster's goal has been to offer the same high-quality user experience on most devices and platforms with high levels of accessibility support.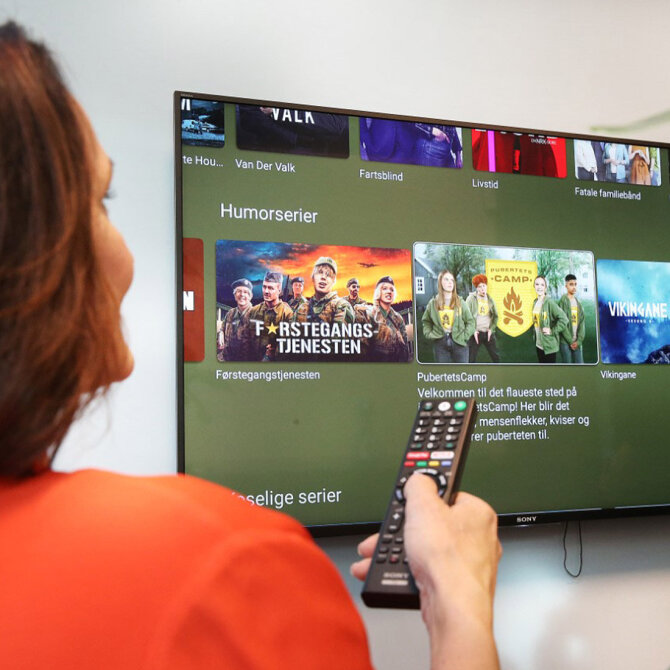 Methods
NRK works strategically to integrate inclusivedesign into its organisation and development process and has hired an accessibility manager and various experts in the field, including the head of NRK's sign language editorial staff who is deaf and a digital accessibility expert who is blind.
Over the years, NRK has cultivated a large internal design and development team that has helped raise the level of user experience and inclusive design.
Communicating and inspiring all professionals across the organisation to view inclusive design as a natural part of their work has been crucial. By working actively with user testing andinclusive design values, NRK TV continuously aims to improve its services.
Lead Users
User insights and testing are key components of the development process and involve a wide range of users. NRK has its own user council with representatives from various interest organisations, such as the Norwegian Federation of Organisations of Disabled People (FF) and the Norwegian Forum of Disabled Peoples' Organizations (SAFO).
The user council meets three to four times a year and contributes considerably to improve the accessibility of NRK. This is a continuous process that benefits all users.
Insights
Focusing on inclusive design in the entire organisation has resulted in a permanent change to values, priorities, structures, and the service's further development. Combining traditional accessibility services like subtitles, sign language, and visual interpretation with new features enables NRK TV to provide a better experience for everyone, despite disabilities. Clear priorities and a strategic focus on accessibility have unlocked significant value in a technically challenging and highly competitive product category.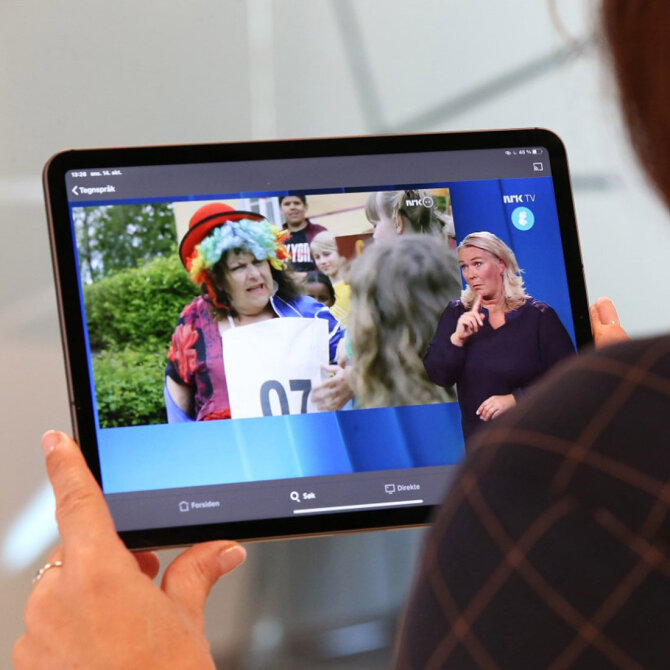 Results
NRK TV's commitment to inclusive design is visible in both content production and technological aspects. In terms of content, accessibility is reflected through subtitles, audio text, sign language and visual interpretation. Audibility guidelines have been developed to prevent speech from being drowned out by background music or other sounds, and both internal and external production environments are monitored for this.
On the technological front, NRK TV has developed a universally designed and modern interface online and in apps for mobile phones, tablets and various smart TV models – without slowing down the pace of innovation. Measures implemented include a new award-winning visual identity developed in collaboration with Heydays, with colours that change based on the TV programme's main image so that the font colour is adjusted to ensure the proper contrast. This makes it easier to find the desired programme and in both good and poor lighting. Keyboard navigation and screen readers are also available to all viewers, and sign language and visual interpretations are easy to find on the home page. Preferences are automated and easy to switch on and off.
NRK has succeeded in developing a world-class streaming service with a wide array of content and programming, one that was even praised by the head of Netflix in 2019. On NRK TV, you can find, select and enjoy content, regardless of whether you have a hearing or visual impairment, noisy surroundings, a repetitive strain injury, sun on the screen, reading difficulties or no prior experience with this type of service or technology.
By making its streaming service accessible to everyone, NRK proves it is taking its mission seriously, which benefits the entire population of Norway.