Tuva cutlery – a good grip on the market
Design of cutlery does not always give special consideration to a variety of hands or grip strength. The Norwegian producer Hardanger Bestikk made universal design a priority when developing their new cutlery series, Tuva. Since the launch in 2009, Tuva has become one of the best selling cutlery series in Norway and Sweden.
Client: Hardanger Bestikk as
Design: Per Finne Industrial Design
Lead users:
Children, young people, elderly with impaired hands and persons with physical difficulties as well as adults without special needs.
Methods:
Interviews, controlled and natural user observation, user feedback

Awards:
Award for Design Excellence by Design and Architecture Norway (2010). Design for All award by Design and Architecture Norway (2010). Category winner Product, Innovation Award for Universal Design by Design and Architecture Norway (2011).

100 %

over budgeted sales first year after launch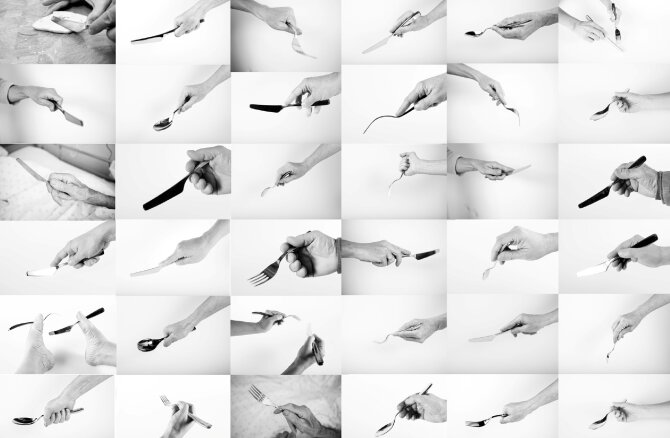 CHALLENGE
Cutlery is used every day, but different people hold their cutlery in different ways. Not all cutlery is suitable for people with varying hand sizes or grip strength. The aim was to design attractive, new cutlery that could be suitable for a wider range of people by making it easier to handle. From the start they agreed on an inclusive design approach with the vision of designing a series of cutlery universal in both form and function.
No matter what, a good grip had to be the overall focus. Given that the task was universal design, the challenge lay in producing cutlery that could accommodate dozens of different types of grip. The more flexible the cutlery, the better they would fulfill the task.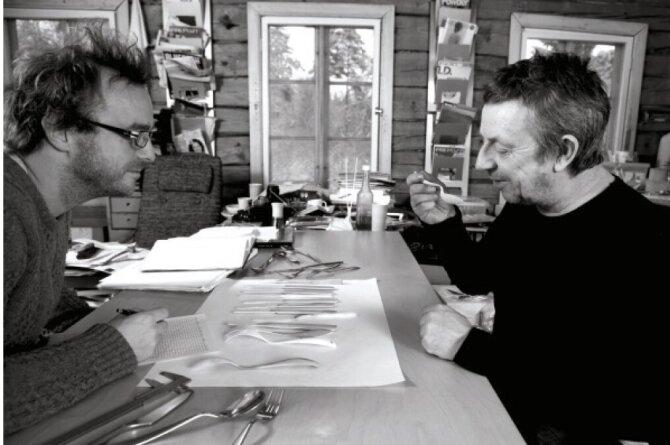 APPROACH
The manufacturer Hardanger Bestikk has always prided themselves in being innovative. Together with industrial designer Per Finne they brought together their long experience of designing different types of cutlery and numerous observations of how people eat to design the ultimate cutlery for the widest possible needs.
The design process was user-focused from the start and included insights from lead users of all ages with varying grip strength. They conducted interviews for deeper understanding of wants, needs and use. The early design sketches was also tested, and they continued working on the designs that were most popular.
Controlled and natural user observation in various contexts was also a part of the process Based on the insights prototypes were prepared and tested with a selection of lead users. Children, young people, people with full function in their hands and different grips, people with reduced function in their hands, people who experience trembling and elderly people all tried eating with the cutlery. This was conducted as one to one interviews and meetings between the user and the designer, taking place in the users' homes and at the designer's house. The designer examined how people used and held the cutlery, and he was also interested in testing the grip, the curve of the bowl on the spoon and the length of the tines on the fork. All comments and requests were duly noted, and modifications made prior to a second round of testing.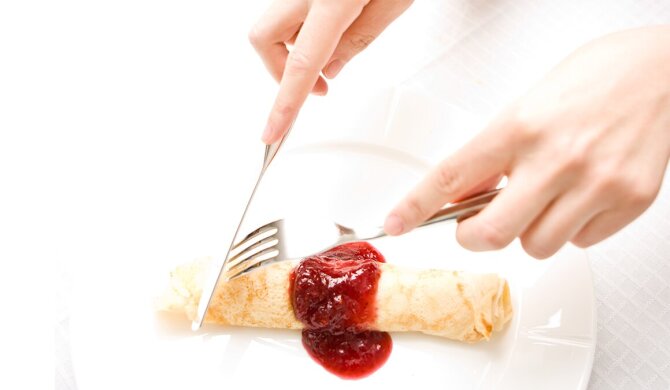 Having a fairly large handle is important in providing a good grip for everyone. You also need to be able to move the grip backwards and still have good control, a requirement that is satisfied by having the balance point a relatively long way back.
RESULTS
The full set of cutlery comprises 18 pieces of several types of knives, forks and spoons. You have the dinner knife and fork, butter knife, cake fork, salad set, tea spoon, long coffee spoon and more. Welding curves and bends in cutlery is a challenge in purely technical terms, as it requires the use of special tools. The team turned the problems into opportunities and chose to round off the edge of the cutlery. This had a positive impact on the grip by making it easier to lift the cutlery from the table.
The final concept was hollow handled cutlery welded together from two parts resulting in a fuller balanced grip without compromising the weight or use of material. The cutlery can be held in a number of different ways making it easier for people with reduced mobility and grip strength to use. The knife is produced in three parts, and the fork and spoon in two. While others using equivalent technology often place a small weight in the handle, most pieces in the Tuva range have different thicknesses of steel in the handle and lower part. This helps to keep the weight down, at the same time as providing good balance. This is why Tuva doesn't weigh more than other cutlery, although it has a larger handle and is actually 1.5 cm longer than usual to suit the size of modern-day plates.
Design is important to Hardanger Bestikk. They believe in quality as a brand and want to create beautiful products that people want and are functional for the largest possible number of customers. By following a user-driven approach throughout the design process it was possible to create aesthetic cutlery suitable as a wedding gift, but equally can be used by everyone. They're goal was to create a timeless design in terms of contributing to reduced consumption, and also beautiful enough to use every day.
During the first year Tuva was launched, the manufacturer sold over 100,000 items, 100% over the budgeted sales figures. Sales also almost doubled in each, coming years so it seems they succeeded very well.
Universal design done properly mean cutlery suitable for the vast majority of people, irrespective of whether they have large or small hands, joint problems or perhaps tremble a little. Tuva meets these challenges with special modifications that bring something positive to the cutlery, albeit invisibly.